OUR SERVICES
As a premium holiday experience for guests who expect and deserve the best in hospitality and amenities we offer a wide range of standard services and easily-accessible extras. Our mission is to provide you with the luxury villa holiday of a lifetime and no effort is too great to achieve that.
STANDARD SERVICES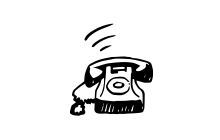 24HR TELEPHONE ASSISTANCE
We're always available, 24 hours a day and just a quick phone-call away.
All necessary baby equipment and changing facilities are available.
Whatever towels you need we provide them.
A bicycle is available at each villa for local adventures.
Our housekeeping specialists ensure everything runs smoothly.
Your garden will be kept lively and clean with a personal gardener.
A pool cleaner will keep your private pool fresh and orderly.
Each villa has its own designated and discreet parking.
Our assistance service on site will be able to provide details of everything you might need: local excursions, fine restaurants and great bars.
ON DEMAND SERVICES
Order in delicious meals from our a la carte menu and its variety of starters, salads, main courses and desserts.
If desired, we can arrange pick up and drop off at the airport.
Take a night out and hire an experienced babysitter to take care of the little ones.
Manicures, pedicures or a full make-over. Your own personal beautician is on hand for whatever you wish.
We can provide information and assistance on car rental.
We can organize your sea-going adventures from the local marina.
If you're into more lively adventures we can also put you in touch with mountaineering, paragliding and other extreme sports experts in the local area.
Explore the sea in a fun and intimate manner by taking to it in a kayak.
Have all your clothes fresh and clean whenever you want them with our specialized service.
MASSAGE & RELAXATION SERVICES
A qualified and experienced masseuse can be requested to enhance your relaxation.
Have a talented private chef and his personnel cook for and serve your company right at your villa.
We can provide you with all the gear you need to see what lies beneath the waves.